2019 Kia Soul Driving Impressions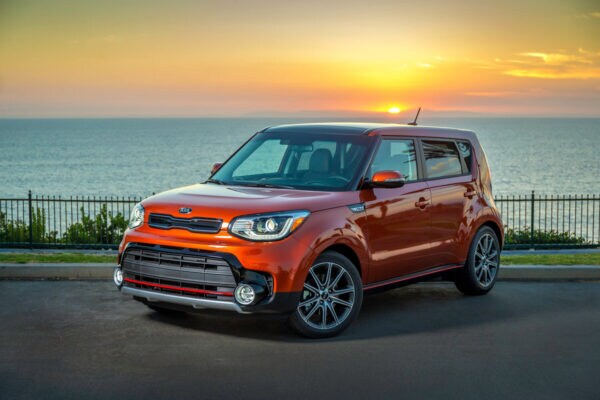 With a curb weight of about 3,000 pounds, the base Soul has just average acceleration. Its 1.6-liter engine makes 130 horsepower and 118 pound-feet of torque. With either a 6-speed manual or 6-speed automatic, it's an engine that needs a constant foot on the gas to keep the pace.
The engine in the Plus is a non-turbo 2.0-liter inline-4 making 161 hp and 150 lb-ft of torque, mated to only a 6-speed automatic. It upshifts and downshifts quickly, and can be locked in manual so it only upshifts at redline. The Plus is the only model that can be optioned with automatic emergency braking.
The Exclaim is the closest thing to a Soul pocket rocket, with its turbocharged 1.6-liter engine making 201 horsepower and 195 pound-feet of torque, enough to create torque steer when you stand on the gas. But most of it goes away in Sport mode, which makes the steering heavier and more able to resist the sideways tug. The transmission in the Exclaim is a smooth 7-speed dual-clutch automatic.
The suspension in every Soul is right, with quality dampers having a lot of travel. The dampers deliver good control, confidence in corners, and isolation from small bumps. For having a short wheelbase, the ride isn't harsh on choppy pavement.
Handling is responsive on a curvy road, especially in sport mode. It doesn't feel like a tall box in the twisties, and the ride isn't too busy.
Four-wheel disc brakes are standard, with brake assist and hill-start assist, even on the base model. They work well, easy to modulate for smooth, controlled braking.